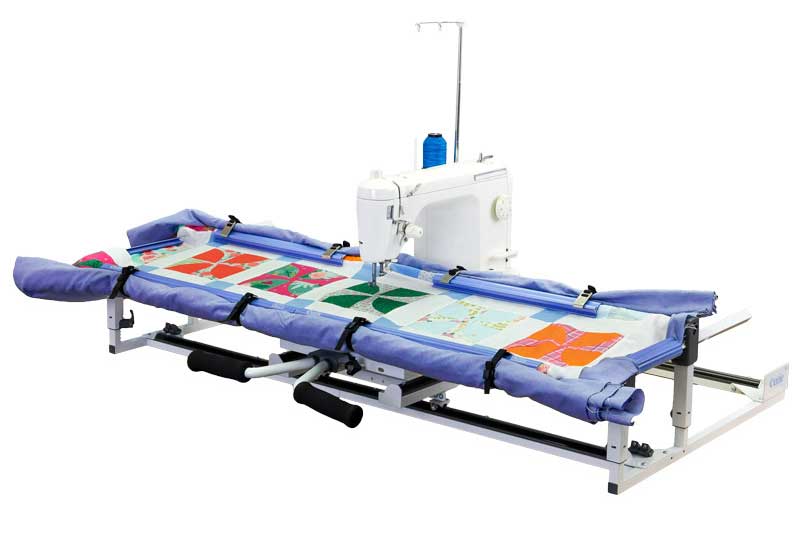 *Machine Not Included
Cutie Tabletop Fabric Frame
Easy Quilting: Anywhere, Anytime
On Sale This Month!
Only $1349.00
Normally $1649.95
Have you ever wanted to try out quilting, but decided not to because of the commitment to everything that goes with it?
The Cutie Tabletop Fabric Frame allows you to quilt to your heart's content in a much easier way, managing your fabric for you so you can enjoy the process more. This frame fits on top of a table or desk and is compatible with most sewing machines.
Why You'll
Love

The Cutie

Your Machine Here
The Cutie works with almost any home sewing machine. Use your own machine or upgrade to one of ours.

Space Saver
Designed to be lightweight and portable, this frame fits on top of a table or desk and can be easily stored away.

Affordable Option
Priced at a fraction of the cost of other frames on the market, the Cutie is the best adaptable and affordable choice for your fabric projects.

Boundless Possibilities
Create projects of any size using our zone-to-zone method. If you can imagine it, the Cutie can help you make it happen!
Welcome To Free Motion
Your machine glides easily over the fabric in any direction, like drawing with a pencil on paper. That's right, quality artistic stitching has never been this easy.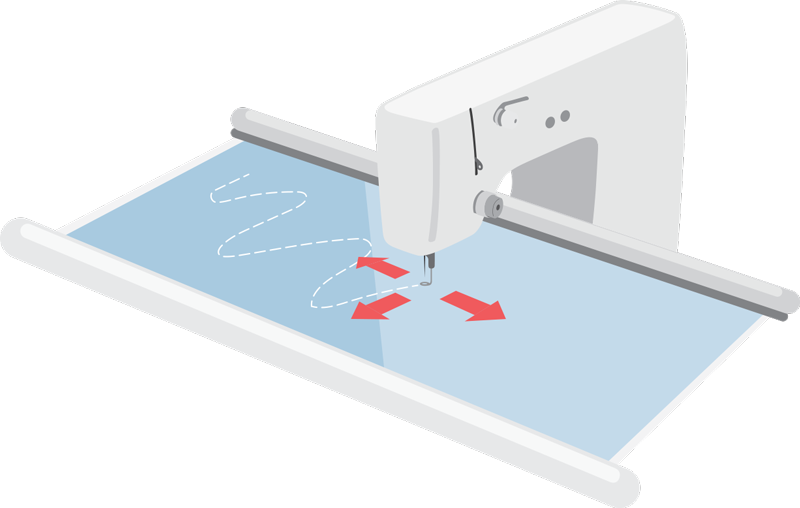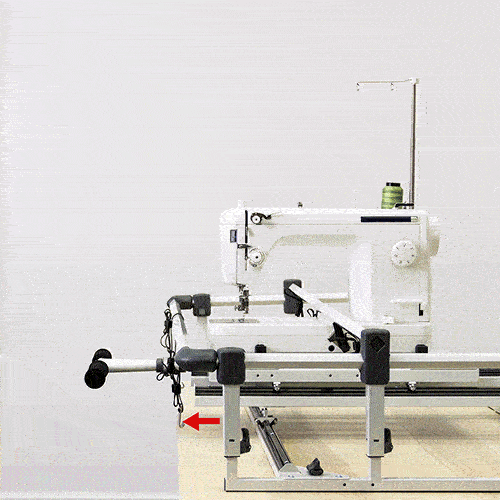 Designed For Your Comfort
This frame is adjustable to fit any sewing machine with up to 19" of throat space. Its handles can also be extended and rotated for your convenience.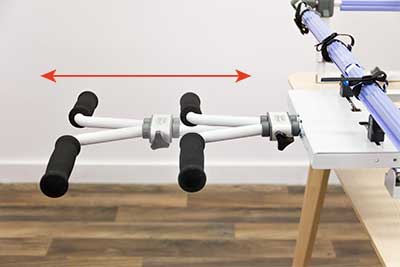 Fit Your Space
The Cutie Tabletop Fabric Frame easily moves from the table, to the counter, to the closet or under the bed depending on when you need it.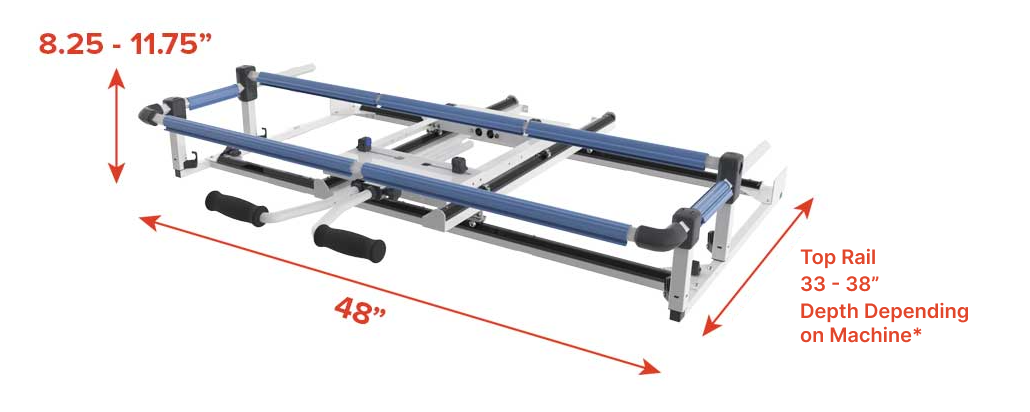 What People Are Saying
"I have used my sewing machine to quilt many times, but with the use of this frame life is good. No more sore shoulders and wrists from moving the quilt around ... I will be forever grateful."
—Pat Z
"I have been wanting something to quilt on. This is a perfect size and price. Love it so much!"
—Nita B
"This fits my small house perfectly! I have it set up on a small folding table at the rear of my living room, and can take it all down to store as needed. It was also easy to assemble!"
—Rose H
What is Zoning?
To "Zone" a project simply means to think about it as block-sections. With this method, you can make projects in any size you want. Quilt king-size or larger — the only limit is your imagination.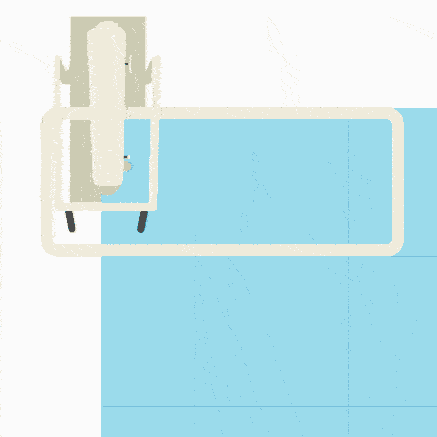 Will My Machine Work?
---
Ask yourself the following questions. If you answer yes to these, your home sewing or quilting machine can be turned into a full quilting system with the Cutie Frame!
Can Your Machine's Feed Dogs Be Disengaged?
Free motion quilting on the Cutie requires the machine to sew in any direction, so you have to disengage your feed dogs.
Does Your Machine Fit On The Carriage?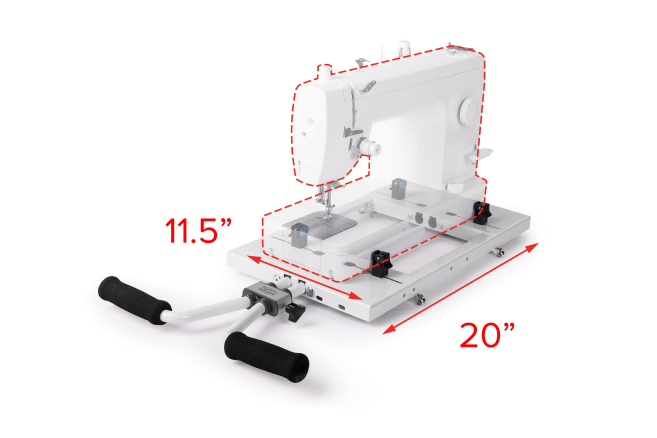 The top plate of the frame can accommodate any home machine that's less than 11.5 inches wide and has a throat space longer than 7 inches, but less than 19 inches.
Do you have enough table space?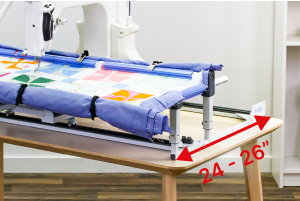 Compatibility with the frame is highly dependent on the table in use. We recommend a 29" height and 24-26" depth.
Does Your Machine Have a Foot Pedal?
Control your machine like normal with its foot pedal under the table. Foot pedals with cords shorter than 4.5 feet may need a cord extension.
Questions?
Call to talk to an expert about your specific machine requirements.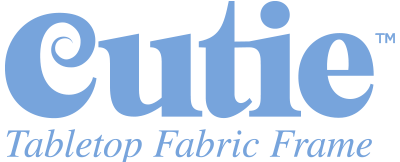 Easy Quilting: Anywhere, Anytime
Give your quilting and sewing the boost it needs.
Any size quilt or project.
Easy to set up, easy to use, easy to store.
No more excuses not to quilt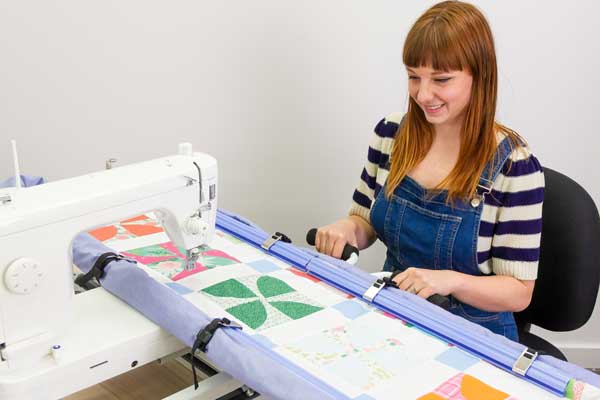 Features and Specs
Premium Dual-Track System
The same system used on our professional quilting machines. Allows the carriage to move around the surface with ease.
Adjustable Depth
Adjust the frame to fit your machine. Compatible with Q'nique 15 and 19 machines, as well as any domestic machine with up to 19" throat space.
Storage Capability
Turn this frame vertically or lay it flat to fit into whatever space you wish to stow it.
Your Cutie Frame Can Now Stand On Its Own Legs
This Leg Accessory Will Transform Your Cutie Into A Free Standing Frame
$599.95
If you are looking to liberate your quilting setup, this is the accessory for you.
Simply attach your Cutie and enjoy instant stability and comfort as you sew. This accessory is height adjustable between 32 and 45 inches to accommodate all crafters.
Make Every Stitch Perfect With These Accessories
Cutie Channel Locks
Free motion quilting is great, but what if you want to move your machine in a straight line without wavering? Enter channel locks! These accessories lock your machine in place so that it only moves front to back or side to side.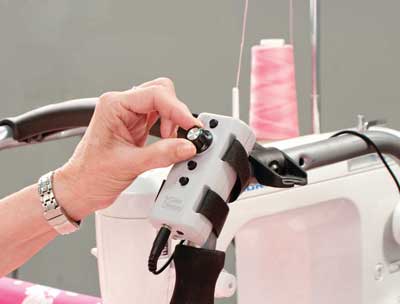 Speed Control
The Grace Speed Control is a universal foot pedal replacement that gives you more precise control over the speed of your sewing machine. It features on/off buttons to start and stop your machine and a dial to change its speed. It is also compatible with many different machines on the market.
Discover The Power Of Automated Quilting
Quilter's Creative Touch 5 is the newest version of our top-of-the-line automation software for computerized quilting. You can choose from two tiers: Beginnings or Pro. QTC5 Beginnings is the budget-friendly option that offers essential features like simplified pattern sewing, an extensive pattern library, and working with continuous pantographs. QCT5 Pro comes with additional features like advanced pattern placement options, the ability to create and save templates, and more!
Upgrade to A Compatible Q'nique Quilting Machine
Q'nique 16X
The Q'nique 16X series brings you all the quality functions of a long arm machine in a convenient midarm size. Choose from three different versions to find the perfect machine for you.
Q'nique 19X
The Q'nique 19X opens the door for quilters who desire the features and reach of a professional long arm, without losing the feel and comfort of their own domestic shortarm machine.